In my last blog we began by pulling together a working definition of narcissism along with trying to understand the cause of narcissism and how it relates to developmental trauma.
In our first months and years of life we are completely dependent on others in our world to figure out what our needs are and meeting them in order for us to survive and to thrive. It is appropriate for us to expect and insist that the world revolve around us. And through out life, we take our own person with us into every situation. The world does continue, in some manner, to revolve around us. It is a challenge to grow into people who, while the world revolves around us, we extend ourselves for the best interest of others.
As we grow into adulthood, the mindset that accompanies good mental health becomes "It is about me for your benefit." If one stays stuck in the urgency of getting one's needs met, one lives from the narcissist mindset of " It is all about me at your expense."
God is a remarkable example to consider in this realm of pondering.
I am sad to admit that for most of my life I have held the lurking belief that God is narcissistic. Demanding that He receive all the glory. That making God happy, at my expense, was what He demanded of me. My early years at boarding school with hundreds of other children pushed the staff into a need to keep order. To keep us all in line and avoid chaos. This mindset was enforced with scripture verses and talk that appeared to be 'god thinking'. In this context, I was lost in the sea of other children. My individuality, desires, hurts and fears were not acknowledged or cared for. The 'needs' of the staff motivated an authoritative approach, disguised in ' what matters was making God happy and bringing others to know Jesus'- at my expense!
It has been a life- long challenge to put my guard down and take my soul towards God, wanting to experience His agenda in my life was generated from His love for me rather than to look good and control me.
The world most certainly does revolve around God! And He most certainly is worthy of praise and glory! What I find as most worthy of praise is that within the relational circle of the Father and Son and Spirit, God has all His needs met! He does not need me to be a certain way in order for Him to be ok! From the incomprehensible magnificence of God, He lives to interact with me for MY best interest. The opposite of narcissistic!
All of us have times that we become pre-occupied with ourselves. When the pain in our lives grabs all our attention, and we lose track of the importance of what others are going through. When our capacity to handle life diminishes, so does our ability to care well for others. At times something triggers us, and we dip into an emotionally immature place of reactivity. Sometimes something fantastic happens and we become self-absorbed, demanding accolades, losing sight of those around us. During these times we may slide into a mindset where we insist the world revolves around us, our needs and wants and goals.
We all live on this continuum of narcissism. Sometimes less narcissistic than at other times.. The problem of narcissism is greater when an individual is unwilling to acknowledge these incidents from a place of humility and strive for repair in relationships. It is certainly worth the effort to grow in self-awareness, to remember that others matter in addition to ourselves, and grow in our ability to love well at all times.
Just as 'a little pee in the pool' is not good, a little narcissism is a problem. Having the goal to grow into people who can set aside 'saving our own lives', and give our lives for others is a worthy cause. This can only occur on the foundation of God having our backs and caring for our needs. Living in the awareness of The Good Shepherd 's commitment to us, meeting our needs and leading us in ways that will restore our souls is the foundation we need to have in order to love well and fully.
There is a continuum between a 'healthy maturity' and the 'malignant' category in which we develop strategies to handle our insecurities. Within each category I have listed in the chart below, there is also a continuum on which we can slide from situation to situation, day to day and season to season.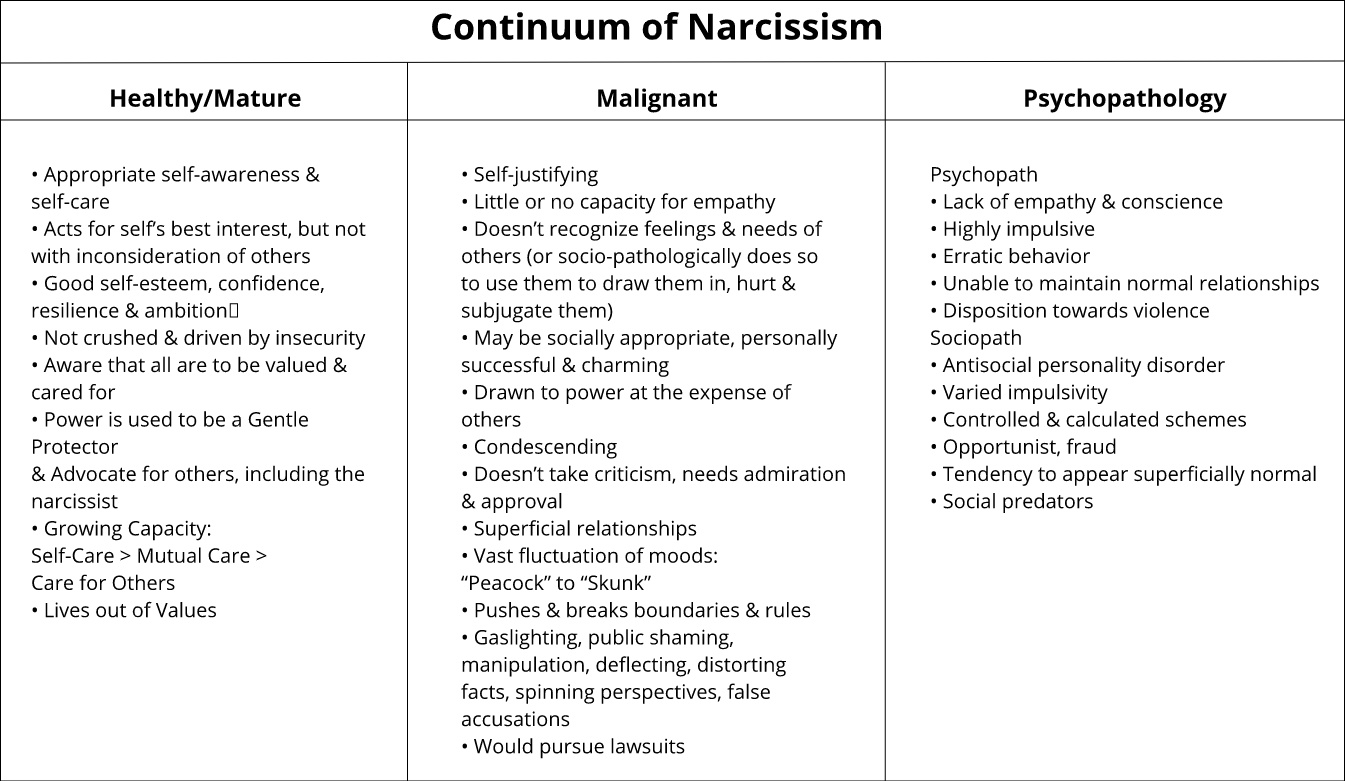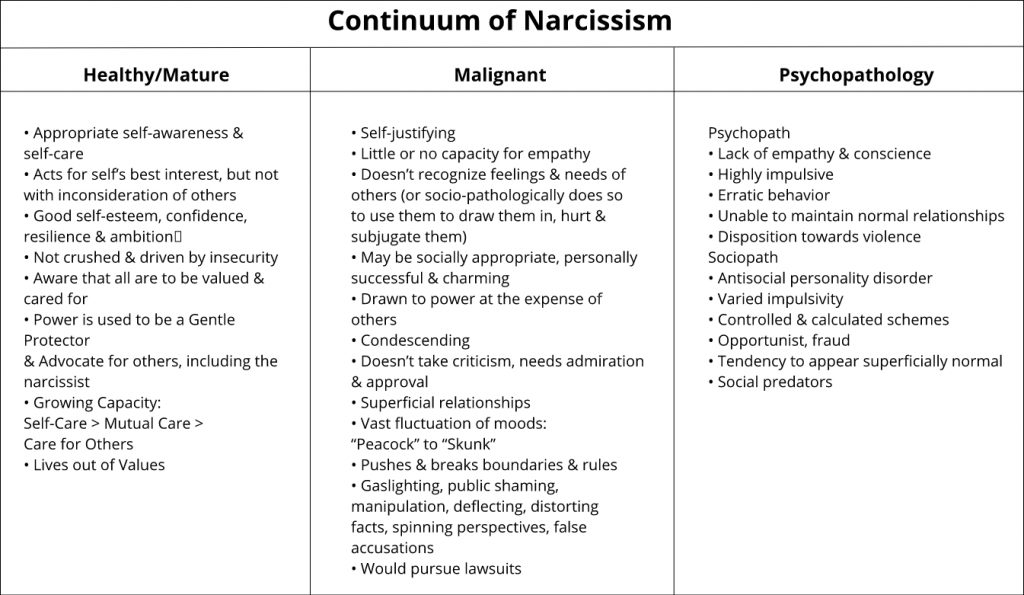 Before we take our focus to what is needed to relate with a narcissist we will consider what is the antidote to narcissism. Please join me in my next blog.