In my last blog I started bringing into focus more the need for purposefully and practically addressing our own healing and growth so as to go forward wisely, individually as well as a community. As we change, it automatically creates change in the environment in which we find ourselves. This increases our own appropriate empowerment as well and the chance of positive changes within someone wrestling with narcissistic tendencies.
Hopefully you were able to use the articles included in the last blog posting in a way to consider ways you have been specifically 'shaped' by a narcissistic environment and ways you can change the manner you have been conditioned to respond.
It is wise to keep in mind that even when we have great ideas and intentionality, we may not yet have the capacity or the support necessary to live out our desired plan. Our lack of going forward often is a reflection of what we do not yet have in place, rather than a sign of our being a failure. This is important so that we can add understanding and compassion to the equation rather than adding more judgement and shame.
As we pursue healing and growth, what are our goals?
Our goal is NOT to get the narcissist to 'see it' and change.
The Serenity prayer captures wisdom and guidance:
"God, grant me the serenity to accept the things I cannot change,

Courage to change the things I can,

And wisdom to know the difference."
We must do our own work in healing and growth- individually and as a community.
Seek God's guidance in how to respond.
Let's look at these components more slowly.
The goal is not to get the narcissist to 'see it' and change.
What we are up against is a God size problem.
The further down the continuum of narcissism, the more deceived an individual may be. Narcissistic traits can be like a flashing neon light to most of us, but the narcissist will not see any problem with themselves due to the amount of justification they have encased themselves in. Our words will likely fall on deaf ears. If one is blind or deaf, it will take a miracle that only God can perform to restore sight and hearing. This is true for both physical and spiritual healing.
I am reminded of Matthew 6:22 "The eye is the lamp of the body. If your eyes are healthy,[c] your whole body will be full of light. 23 But if your eyes are unhealthy,[d] your whole body will be full of darkness. If then the light within you is darkness, how great is that darkness!"
We are in need of a Greater Source to bring light to the situation. Jesus told of this Resource when he told the disciples in John 16:7-9 "But very truly I tell you, it is for your good that I am going away. Unless I go away, the Advocate will not come to you; but if I go, I will send him to you. 8 When he comes, he will prove the world to be in the wrong about sin and righteousness and judgment: 9 about sin, because people do not believe in me."
It will be important for us to recognize our powerlessness and continue to rely on the Spirit, the One who is capable of adequately shining Light into deceptive darkness and communicating truth regarding the evil of narcissism. We must resist becoming judgmental, continually taking our own hearts into communication with Him so as to know what His perspective is regarding the narcissist and what He has in mind to set things back 'right'.
We must also keep in mind that God gives each of us the freedom of choice. This is the will of our God, even though the results are at times disastrous. We may have discernment, good communication skills, the ability to relate well with the narcissist, but they may choose to ignore our admonitions and even leave the relationship. We are not commissioned to fix a narcissist. God does want us to grow in our ability to love a narcissist well.
The Serenity prayer offers wisdom and guidance.
"God, grant me the serenity to accept the things I cannot change,

Courage to change the things I can,

And wisdom to know the difference."
When Jesus was giving his Sermon on the Mount he instructed, as recorded in Matthew 7:1-5 "Do not judge, or you too will be judged. 2 For in the same way you judge others, you will be judged, and with the measure you use, it will be measured to you.3 Why do you look at the speck of sawdust in your brother's eye and pay no attention to the plank in your own eye? 4 How can you say to your brother, 'Let me take the speck out of your eye,' when all the time there is a plank in your own eye? 5 You hypocrite, first take the plank out of your own eye, and then you will see clearly to remove the speck from your brother's eye."
We are not responsible for the condition of another person's soul. We are responsible for the condition of our own souls. King David understood this and captured it in his prayer, recorded in Psalm 139: 23, 24 when he asked God to search him, know him, see what hurtful ways were operating within him, and lead him in the way that leads to life. We are to work on our own 'stuff'.
May we take courage to focus on our own healing journeys, pursuing our growing up into maturity.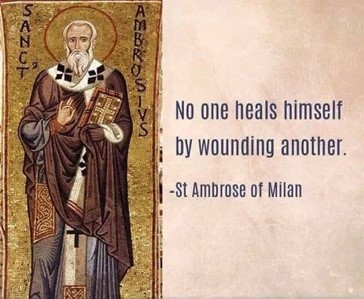 Often, we are unconsciously committed, individually as well as a community, to avoiding conflict and thus turn a blind eye to possible ways people need to be challenged. Thus, we live out of a co-dependency. Our own lack of maturity enables the narcissist to continue the path they are on.
We must do our own work in healing and growth- individually and as a community.
God never expects us to live past the level of our transformation but this is no excuse for justification to remain living the way we are.
So far, we have missed dialoguing regarding a vital piece of what is needed in our addressing the enormity of the narcissistic problem. It is easy for us to look at the issue through our individualistic perspective. How does this impact me and what shall I do about it? But the problem is much too big for us to tackle alone! We need to consider what is needed in our communities in order to move forward appropriately.
Our own individual growth is important. Healing and growth happen within relationships. It will 'take a village', a group of people to come together, pursuing a safe and supportive community to address the challenge of narcissism tendencies within ourselves as well as the more 'confirmed narcissists'.
One thing that we can have more control over is whom we allow into places of authority and leadership. It is appropriate to match a person's level of responsibility with their level of maturity. Narcissists have been wounded in a way that they are left with significant holes in their maturity, regardless of how brilliant and skilled they may be. They have not developed the inner perspective that everyone in their world is to be cared for, protected and supported with honor and respect. Their insecurity instead motivates them to use others for their own pursuit of being at the top of the pecking order. They pursue self- care at the expense of others. True repentance will reveal a shift from this stance to one of "If anyone is going to suffer, I am willing to be the one."
It will be vital for us to have grown in our own maturity to be able to live from a stance of "If one of us is going to suffer, I am willing for it to be me if it means I can stay engaged with you for the sake of your healing and growth. I know that you will be angry with me as I hold you accountable, but I am willing to endure that as long as I sense the possibility of your willingness to resist self- justification and a desire for wholeness."
Due to the skill, talent and charismatic persona of a narcissist, we often miss seeing through the front and elevate them to a place of authority. It is more comfortable to avoid conflict by being more loyal to those who hurt the wounded than to those who are being wounded. It would be wise for us to take them out of these positions, while keeping them- if they are willing to stay- in our community to be cared and guided into truth and love.
In his book, The Pandora Problem, Jim Wilder has included some exercises, which include training to help communities retrain our perspectives, develop the ability to resist self-justification, accept appropriate messages of shame for the purpose of growing, focusing on our group identity and the pursuit of helping all in our group to pursue living out of it.
We are advised to 'train our hands for war'. There will be battles and pain. We need to be able to suffer well, staying relationally caring during the harsh times.
It is unrealistic and unwise to go unprepared into a battle with a narcissist. One of the ways we can practically enter into training is by going to the emotional gym, increasing our capacity to lift and remain stable with the emotion of shame and the many other emotions that surge when we are caught in the onslaught of relating with a narcissist. You can find more information on the emotional gym by going to my other posts titled "Developing Emotional Muscles' and 'Practically Going to the Gym.' You may use these articles to engage in practical ways to grow our capacities.
We must seek God's guidance in how to respond. We do not have the big picture, regardless of how much we insight and discernment and wisdom we gain! We do not know the wisest way to proceed that will engage another person's heart in a way that will get through defenses rather than result in escalated 'hardness' and defensiveness. Only God knows the 'what' we do not know in order to proceed. Only God knows whether a step towards a narcissist with kind mercy or a pulling back to allow them to live making detrimental choices will be more effective in shifting the heart's direction. We must, like Jesus, do what we see our God doing in any given situation.
In my next blog, I will continue to flesh out some practical ways for us to tailor purposeful changes as we continue working on personal healing, ways to communicate with someone who is narcissistic and how to respond when they do not make needed changes in their lives.
I am grateful for things I have learned from my friends at New Hope Fellowship in Kansas, as well as the practical ideas presented by Margalis Fjelstad in her book Stop Caretaking the Borderline or Narcissist. I will attempt to summarize some helpful ideas I have gained from them.
Please join me in my next blog.